Industrial filtration and DUSTING for the toughest conditions!
At Blast Tehnik, we develop and manufacture powerful systems for dust and smoke extraction. In your production plant like this: we improve air quality, ensure lower operating costs and safer jobs.
We present you industrial dust collectors: EXTRACTOR 4 / 6-10.000 in HEAVY DUTY and STANDARD versions.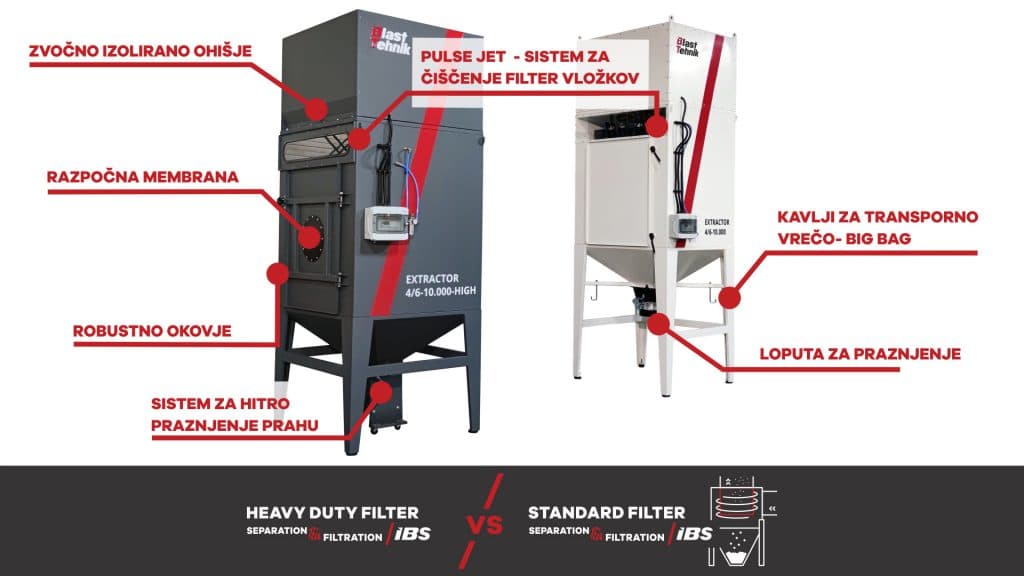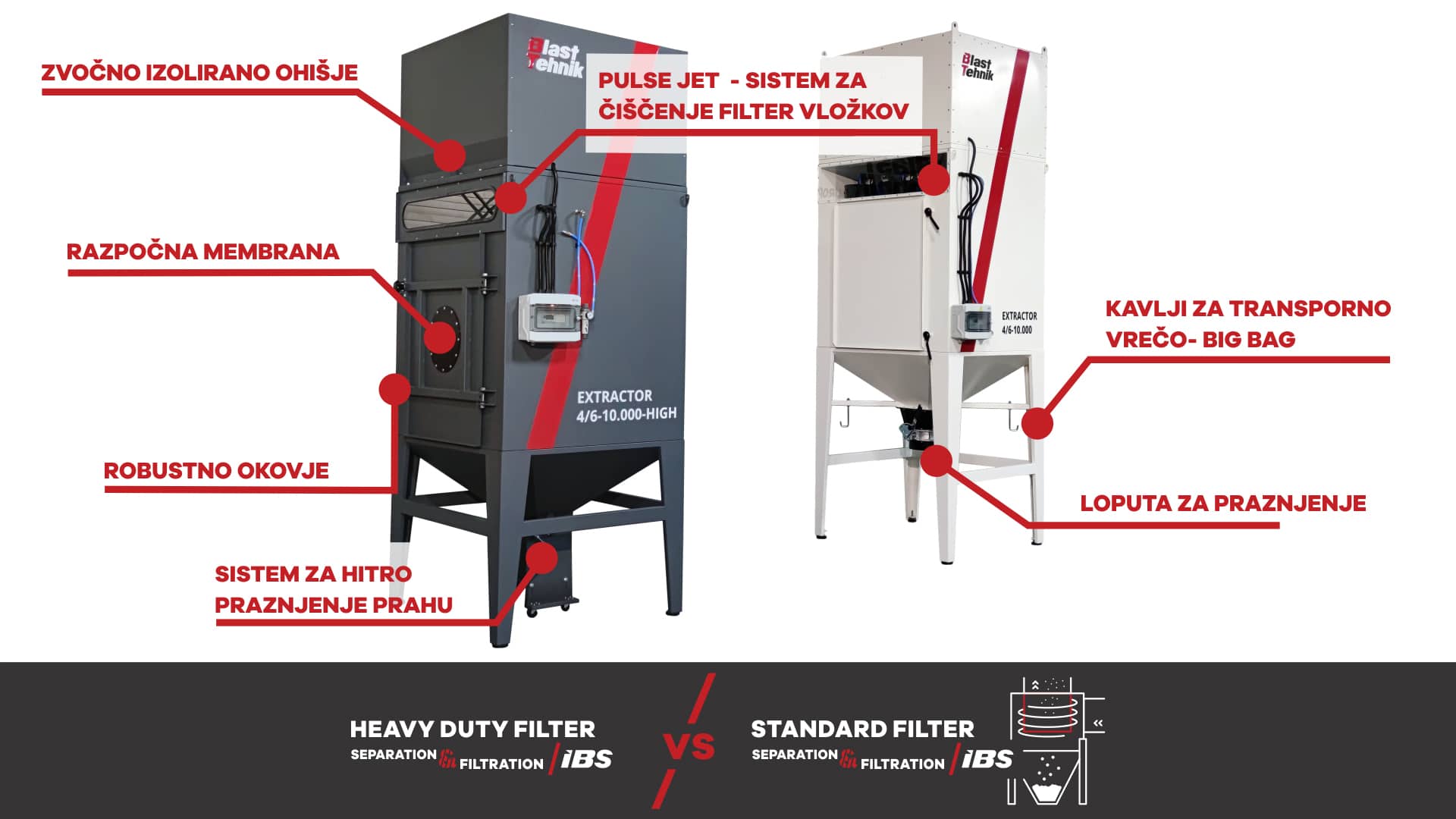 ADVANTAGES:
Our filter systems PREVENT CONTAMINATION OF YOUR PRODUCTS and protect the worker from harmful influences.
Possibility of suction of various substances: DUST AND FLAMMABLE DUST, OIL VAPORS, SMOKE, …
INDEPENDENT INSTALLATION or INTEGRATION into your existing suction system.
Suitable for many applications: WELDING, METAL PROCESSING, WOOD PROCESSING, PAINTING AND POWDER PAINTING, SANDBLASTING, …
CONTINUOUS OPERATION with AUTOMATIC FILTER CLEANING function.
MODULAR DESIGN, 100% FLEXIBILITY
The FILTRATION AND DUSTING solution is flexible so that it fully meets the specific requirements of customers with an air flow of up to 30,000 m³ / h. The modular design allows for stand-alone installations as well as installation in your existing suction system. Do you have special requirements such as limited area or small height? With a flexible design that includes a modular design, multiple filter media and configurations, and a wide range of options and accessories, you get an EXTRACTOR with solutions for the unique needs of your plant.
LONGER LIFE AND LOWER MAINTENANCE COSTS
Thoroughly clean the filter cartridges with compressed air pulses of 5-7 bar. PULSE JET's own electronic control system activates the electropneumatic valves of the injection columns based on the measurement of the differential pressure between the uncleaned and purified air inside the filter. With the optimal setting of the program for cleaning procedures, you ensure permanent and long operation of the filter even in the most difficult conditions with demanding dust. The time of injecting compressed air into each type of filter is very short, lasting from 0.016 to 0.1 seconds. The pauses between individual pulses are adjustable and last from 10 to 250 seconds. In this way, the service life of the filter cartridges is significantly extended, while maintenance costs are reduced.
WHY BLAST TECHNIQUE FILTER SYSTEM?
2 YEAR WARRANTY
possible RENT or BUY

turnkey solutions MADE TO MEASURE OF THE CLIENT

own SERVICE and USER SUPPORT

IN STOCK – spare parts and consumables